The MACM
Musée d'Art Classique de Mougins
A unique collection, a "Qualité Tourisme" establishment

Looking for an extraordinary cultural discovery ? Step through the door of the Mougins Museum of Classical Art, which will reveal its precious treasures. A unique collection of antiques, but also works by renowned contemporary artists…
The MACM is the fruit of a private initiative by Christian Levett, an English businessman and an enthusiastic art collector from a very young age. In 2009, he discovered Mougins, and literally fell in love. He purchased a house here and, with a huge amount of work, transformed it into a true frame for hundreds of works of art since 2011. A collection of unique antiquities grouping together sculptures, vases, jewellery and coins, as well as the largest private collection of Greco-Roman weapons and armour in the world! You can also find paintings, drawings and sculptures there from famous modern and contemporary artists such as Picasso, Matisse, Chagall, Dufy, Cézanne, Rodin, Dali, Rubens, Sosno and Andy Warhol, to name just a few.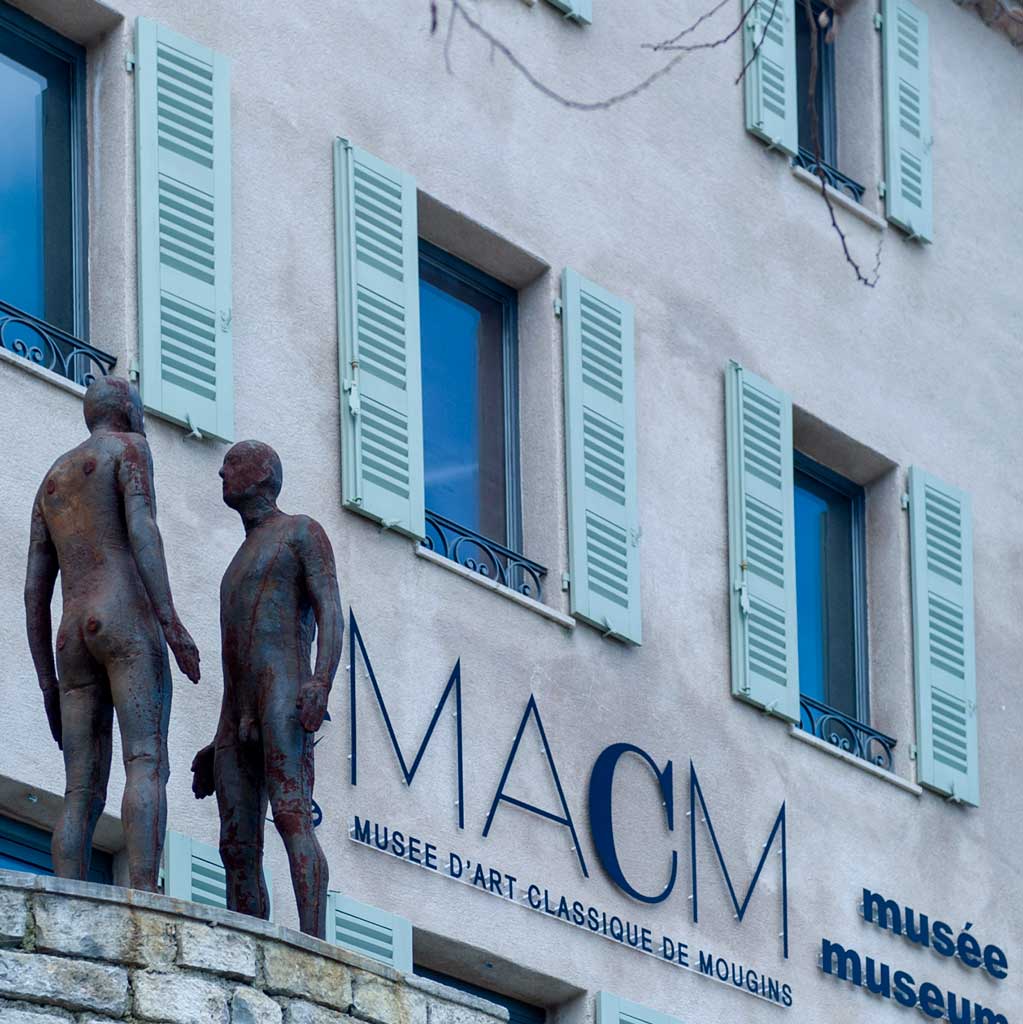 In making these treasures accessible to the public, Christian Levett allows visitors to go back in time and history from the Egypt of the Pharaohs to the contemporary era, via the vibrant ancient civilizations of Greece and Rome.
Over the four storeys that make up the museum, works from different periods live together in harmony thanks to insightful and timeless stage setting. The Blue Venus by Yves Klein rubs shoulders with the Birth of Venus by Andy Warhol; a bust of the Roman emperor Caracalla sits beside a drawing of an ancient bust by Henri Matisse.
Tel : +33 (0)4 93 75 18 22
Times : Open 7 days a week, all year round, from 10:00 to 18:00.
Site : www.mouginsmusee.com
Rate : Admission: €14 (adult), €5 (ages 10-17), free for the under 10s.
Location : 32 Rue du Commandeur
Disabled access
The museum also hosts temporary exhibitions. Its works circulate in museums and universities the world over.
Conferences, cultural exchanges between museums throughout the world and the "Amis du MACM" [Friends of the MACM] Association allow the museum to thrive and spread art and culture.
Several themed visits and events tailored to children and young adults are also organized, revealing the passionate secrets of history to the younger generation.